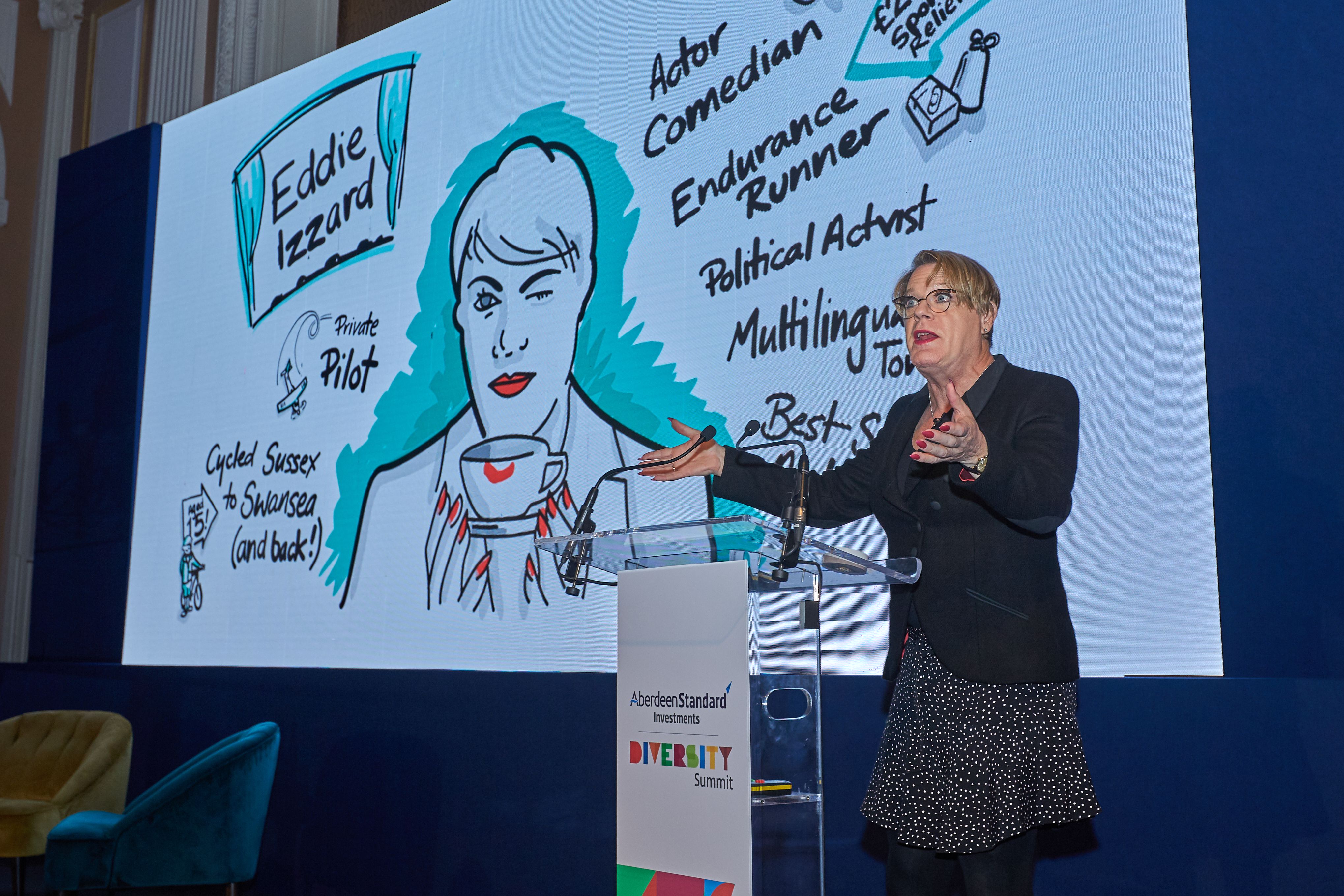 Eddie Izzard
Eddie Izzard is one of the world's best-known standup comedians, touring and
performing internationally in various languages. She is also a popular film and
stage actor, a charity fundraiser, and activist.
Starting her career in a double-act whilst at university, Eddie was a street
performer before moving to standup. After a few years of performing her
reputation for unique, energetic, thoughtful yet stream-of-consciousness
performances grew. Building a cult following in the UK and the US, her shows
became huge successes live, on TV (a medium she largely shunned when building
her career) and on DVD. She broke new ground by learning and performing her
shows in French and then German (she would later also perform in Spanish,
Russian and Arabic).
Eddie has an impressive list of stage and screen credits ranging from plays by
David Mamet and Christopher Marlow to films including Shadow of the Vampire,
Ocean's Twelve (and Thirteen), Victoria & Abdul, and Valkyrie, to acclaimed
television series including Hannibal, Treasure Island, and The Riches.
Away from performing Eddie is an active campaigner and fundraiser. Notably she
ran 43 marathons in 51 days with virtually no experience and only six weeks
training for Sports Relief and continues to be involved in similar charity challenges
(including 27 marathons in 27 days inspired by Nelson Mandela's 27 years in
prison). She was closely involved in the training and support of the London 2012
volunteer Gamesmakers. She has also campaigned in support of the EU, the
Labour Party and voting reform. An often outspoken advocate of humanism,
equality and diversity, sustainability, and human rights, Eddie is high profile
Unicef ambassador, and is also seen as a credible, thoughtful political voice.
In presentations Eddie speaks about her life and ethos and how an unerring focus
to achieve your goals can overcome any mental obstacle whether at work or in life.